Member Profile: Sandiwood Farm
April 23, 2021
This is a reprint from our blog post on DigInVT.com, Meet the Farm Stay Host: Sandiwood Farm (click to view the full article and photos).
Farm stay experiences offer Vermonters and visitors alike an opportunity to discover life on the farm! From maple syrup and dairy to organic vegetables and pasture-raised meats, each farm that welcomes visitors hosts their own unique, educational, relaxing, and fun activities. Guests can pet a farm animal, harvest their own food, learn about the farmers and hear their stories, take in the beautiful landscape, and enjoy nearby attractions including local food and drink, outdoor recreation, farmers markets, and so much more.
Vermont Fresh Network and DigInVT recently heard from Sara and Bob Schlosser of Sandiwood Farm in Wolcott about all the happenings on the farm, including their farm stay programming and what they have planned for 2021!
Please share a little bit about the history of your farm and where it's located.
Sandiwood Farm is in Wolcott, the gateway to the Northeast Kingdom of Vermont, located 1.7 miles up Town Hill Road, with amazing 360 degree mountain views including Mt. Mansfield, Smugglers' Notch, Whiteface, Mt. Elmore, and the Worcester Range. Bob and Sara Schlosser were married 33 years ago in what was then an unproductive 40-acre field - they had a dream to farm and be stewards of their piece of the Kingdom.
Since then, Sandiwood Farm has grown to 115 acres including a working sugarbush, an organic CSA program, a line of CBD and hemp products, as well as a place to host one-of-a-kind events and farm stay experiences. They even rent out their unique farm venue for others to use.
Sara and Bob are committed to being responsible stewards of the land and using regenerative organic growing practices. They are proud to supply their community, family, and friends with organic, nutritious produce, and understand the importance of sustainable food systems.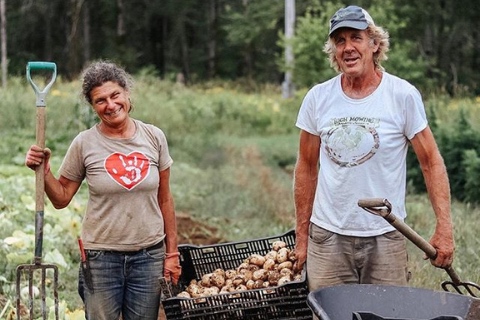 How did you get involved with farming and what's the most important thing you've learned along the way?
Sara went to Antioch college in Ohio and earned a degree in agriculture and arts. Many farming internships shaped her - she knew living off and stewarding the land was what she was meant to do. Sara met Bob in Wolcott in 1987 when she moved in next door to him. He was already homesteading, growing his own food, and raising animals. They knew fate had brought them together and they could tackle their dreams and passions.
Everyone has had to learn resilience, especially [during] this past year with COVID. Daily farming plans and priorities are always changing with weather and work load assistance. Last year, we had to make a quick pivot when restaurants and agritourism shut down. We started the CSA program in 2020 and are excited to continue this year!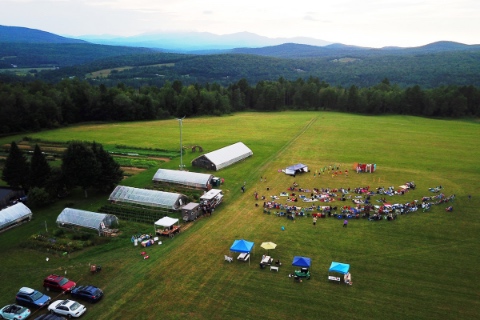 When did you begin welcoming guests to your farm? And what made you decide that you wanted to launch a farm stay program on your farm?
In 2011, when Sara and Bob's daughter graduated from The New England Culinary Institute (NECI), they decided to have their first farm dinner, welcoming neighbors to come for a complementary meal and test it out. Farm dinners quickly grew and expanded in many ways, to hosting fundraisers, music, arts, dance events, and more. They also rent their farm venue for others to use and are excited to continue to host socially distant meals on the farm.
When their son graduated from the University of Vermont (UVM) with a Parks, Recreation, and Tourism major in 2015, it became clear that they wanted to engage more of a recreational tourism aspect on the farm. Kyle started to create more trails, tent sites, and tiny houses for overnight farm stay experiences.
It's rewarding to have customers that we've known from the years of farmers markets finally come to the farm to see where and how the food is grown. Many of these farm dinner guests had seen our children grow up at the farmers markets. Their eyes were also finally open to the reality of what it takes to grow and market produce.
What is your favorite product you grow, raise, or make?
Every season has its own favorite - the first and sweetest harvest of the year is always Sandiwood Farm maple syrup. Bob and Sara take great pride in keeping old traditions alive without the use of reverse osmosis or vacuums - they have long sap boils with wood from their sugarbush which gives their small batch, artisanal syrup its own terroir and taste of place. In spring, their favorite crop is seedlings.
I also have to mention our signature salad greens - they were one of our first market vegetables that we now offer for 32 weeks of the year! Cut and dried flowers can't be neglected from this category either, as they are how we got started in market gardening. Our latest fun crop is the CBD hemp and the wellness products our chemists produce from our crop.
What kinds of activities can visitors to your farm expect to experience while staying there?
Visitors can tour the gardens, walk the trails through the old time sugarbush (where they might find artifacts from a century of sugaring), arrange an informative tour with Sara, collect eggs, sit back and relax, watch wildlife, see the sunset, and let the farm recharge them.
A lot of our visitors enjoy the numerous world renowned breweries, parks, lakes, rivers and great hikes nearby.
Article shortened - view full article.
To learn more about
Sandiwood Farm

and/or book a stay, check out their DigInVT Place page and visit their website: sandiwoodfarm.com.